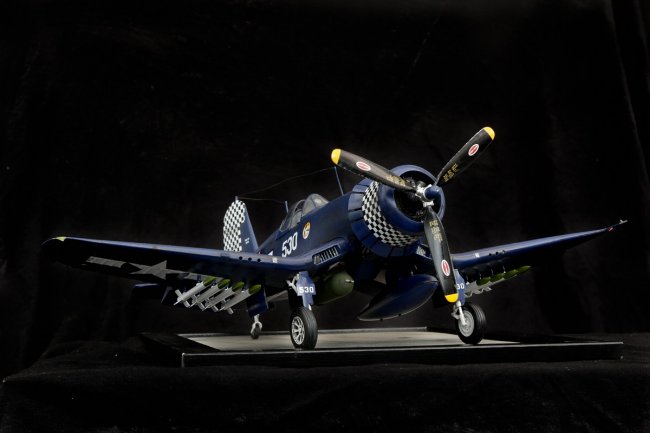 This is my first attempt of building a 1/32 plane. After a 12-year modeling-brake I built some 1/72 helicopters and this beauty. It blocked a big part of my workbench for about three years and is built straight out of the box. I made a preshading before adding the self-mixed blue (Revell Enamels). The Decals were applied using Mr. Mark Softer - maybe due to their size some of them were really brittle, but I got them all in place without major damages. I sealed the model with a semi-gloss clearcoat before applying a weathering using black and darkblue watercolors.
The fit of the kit was not what I expected for the price, in some areas I needed a lot of putty - but that might have been caused by the guy sitting at the workbench ;-). Anyway, this kit showed my that I have to improve my skills to get a perfect looking model, there are some things I am a bit unhappy about like the antenna or the weathering but I am still satisfied with the outcome of my Corsair.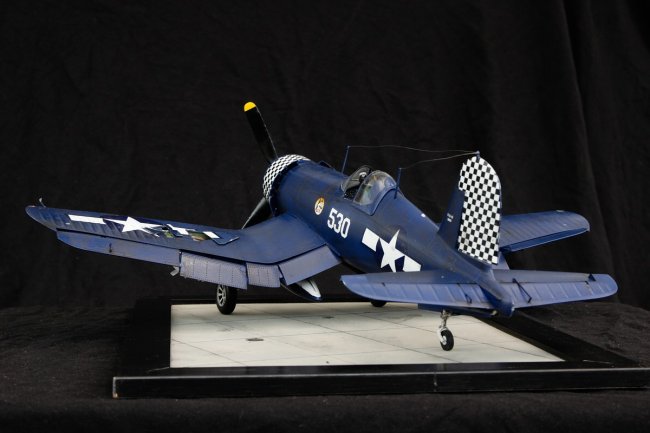 I built this Corsair as a Birthday Present for my Dad. Unfortunately I finished it with a delay of about two and a half years but that's the plus of a birthday, it comes on a regular basis. With this in mind - Belated Happy Birthday Daddy!
Malte "Razor" D.