This is my Italeri 1/48 MiG-21 MF of the Iraqi Air Force ( لقوة الجوية العراقية; Al Quwwa al Jawwiya al Iraqiya).

The Soviet fighter Mikoyan Gurevich MiG-21 is the most produced supersonic jet aircraft in aviation history. The "Fishbed" project had been set up in the mid 50s, as natural evolution of arrow-wing fighters. The delta wing and the shape, the high speed, the great maneuverability, the weapons variety and the loading capacity, had been the strengths of its commercial success. In fact, the MiG 21 has equipped the fighter squadrons of Soviet Union and all Warsaw Pacts Countries. Furthermore, a lot of Moscow Allied Countries, all over the World have used it for a long time. The MiG-21 MF version, mainly used for export, adopted a more powerful engine Tumansky R-13-300 able to improve the "Fishbed" flight performance. The MiG-21 operating life has been very intensive considering that it has participated to numerous conflicts between the 60s and 90s.
I chose to paint my MiG with the original scheme of the Soviet Air Force (aluminium), this aircraft landed in Basra in 1979 with the last batch of MFs delivered by the USSR. After their entry in service the MiGs were painted with the Iraqi scheme.

During the Iran-Iraq war the MiG-21 was the main interceptor of the Iraqi Air Force and it was used extensively against the western fighters of the Iranian Air Force such as F-5E Tiger II, F-4E Phantom II and F-14.

Colonel Mohammed Rayyan nicknamed "Sky Falcon" scored 10 air combat kills, making him an ace and the most successful Iraqi fighter pilot of that war. Rayyan, while only a Lieutenant and flying a MiG-21MF, claimed two (later confirmed) kills against Iranian F-5 Freedom Fighters in 1980.

Captain Omar Goben was another successful fighter pilot. While flying a MiG-21 he scored air kills against two F-5E Tiger IIs and one F-4E Phantom II in 1980. He later transferred to the MiG-23 and survived the war, but was killed in January 1991 flying a MiG-29 versus an American F-15C.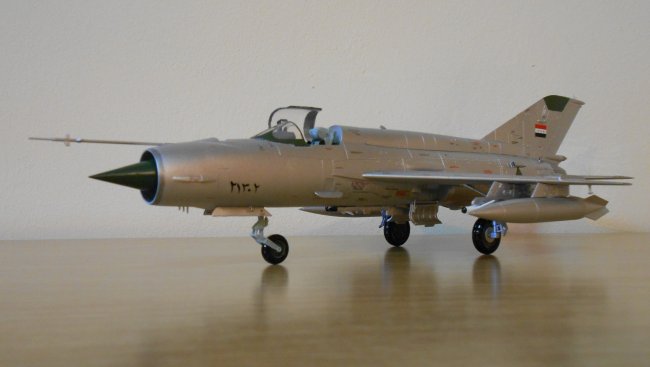 I really recommend this kit, the parts fit well, you don't need to do many adjustments, also you have many alternatives to load it with weapons. I've chose the air-to-air scheme and put it in the QRA status with the 70th Squadron
Louis