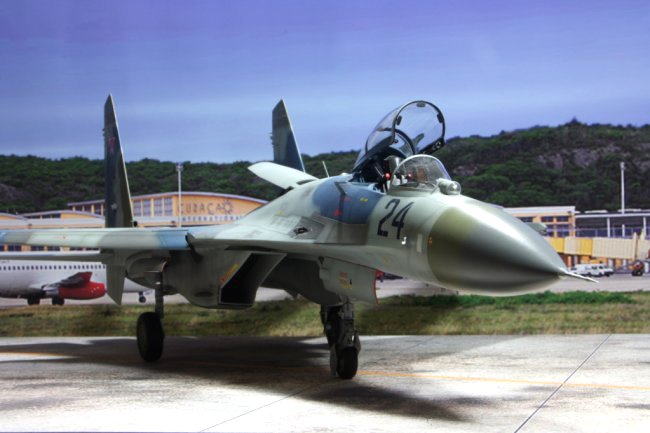 Hi all. I'm a big fan of large scale models although our worst enemy is space to display them, but that doesn't keep me from building them as I love the way these birds look once finished. This rendering of the mighty Su-27B by Trumpeter is known for having some issues in comparison to the real one, namely the bottom of the air intakes, the kit has them roundish-like when in actuality they're flat. The nose seems to be slightly off size wise and a few more details that I don't really remember right now, however, this beast, no matter what it looks like from the kit, it was something I wanted to put hands on. I know there is aftermarket stuff out there to correct these issues, but I skipped it this time so I .
I didn't really have too much of a battle with it except for a few areas like the wings which I had to saw off (sort of) and attach them again as they ended up "sticking up" after using the provided screws and applying the glue. It was a bit of a bear but I managed to tackle that. The only thing I found useless was using the metal hinges provided in the PE fret that comes with the kit to make the flaps and slats "movable", what a waste of time, just glue them in the desired position and avoid all the precious time invested in a useless step (imho).

Well, there's a whole book to write regarding this build, but everything pretty much the usual process of a build so I'll leave it here for now. I built it with no armament on as this jet is, in the majority of cases, seen unarmed, and I kind of like it that way, sort of like an "Air Show" type of plane (although is a real warrior). I used Vallejo Model Air and Tamiya paints. The camo is more to my liking as the colors are not really accurate to any specific squadron but, hey, it's my Air Force anyway :) and the last thing, I have to charge her monthly rent as she's the one taking the largest space on my shelves :D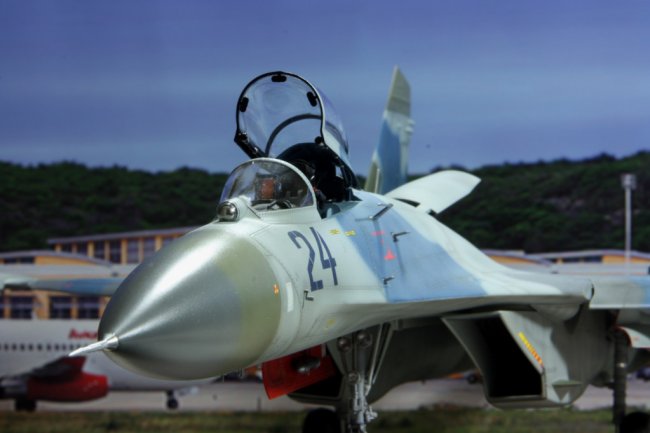 Hope you like it and thanks for looking.
Juan Jaramillo
Click on images below to see larger images