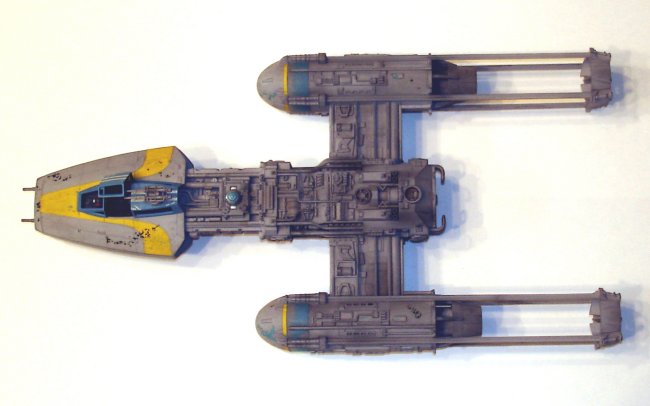 There is an interesting story behind the construction of this 1/72nd Scale Y-Wing Diorama. The fighter was built out of the box from the Fine Molds kit. This was my first model from Fine Molds and I must say I was very impressed; a truly well-engineered kit. The model was airbrushed light gray and then weathered with pastel chalk after applying the decals, and then sealed with crystal clear flat acrylic. I used the kit decals, but mixed and matched for a non-movie version, and used most of the remaining decals on the derelict crash site. The crash site I begin with gluing the vacuum-formed base from the old MPC Hoth set to a piece of doubled 1/8" plywood.
The derelict's main structural members are from two AMT Star Trek kit stands. I used various kit parts, sprue, tubing and wire for the engine and hull details. The engine bells are from failed casting attempts of my Nebulon-B Frigate…hated to see them go to waste. The hull paneling is both card stock and plastic. I had some old Alumilite casting resin that was too thick and grainy to use for resin casting, but it made a great "rocky textured" paste to form the ground around the crash site. I used sand and small pebbles for additional texture.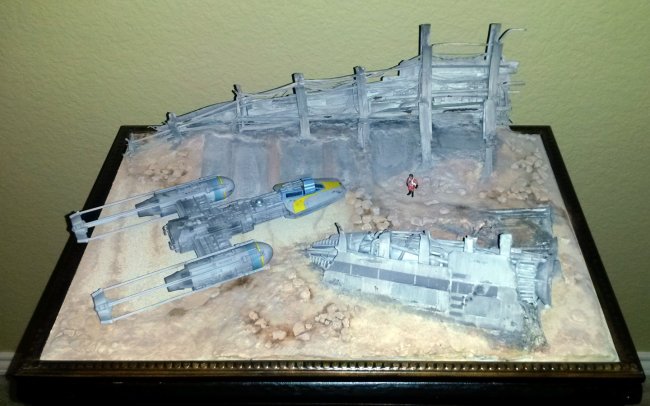 After priming with Krylon gray, I applied a base coat of Krylon flat white, and then used a series of both Acrylic and enamel washes to get the desert tones as well as the crashed ship just right. Finally I mixed a little light grayish tan to some matte clear and airbrushed everything with a light coating of "dust". I thought the results were pretty good.
There are a few more pictures at my website www.siriusreplicas.com ...enjoy.
Frederick Smith