So once again I am back with another completed project, the 1/48 Zoukei Mura F-4S Phantom II in the unique Heater-Ferris scheme adorned by VF-302, circa 1983.

The kit is the excellent Zoukei Mura F-4S kit. This was a fun build for me, and I enjoyed pretty much the entire process.

Fitment is very good, and detail is fantastic! So much so that the only aftermarket I used were the decals. Those decals are the from the long OOP Afterburner Ferris Phantoms sheet from 2009. I think I lucked into finding that sheet on eBay for less than $20, after I had been searching for quite some time. As usual, the Cartograf printed Afterburner Decals performed flawlessly.

This kit has a well known flaw in the rear fuselage, but it is not something that bothers me much so I did not worry about it. It is said that the upcoming long-nosed Phantoms from ZM will have the fuselage issue fixed. Makes me wonder if they will ever do anything about the ones already produced... Probably not...

Masking for this scheme is actually considerably harder than I was expecting. I freehand masked the Splinter Eagle Aggressor scheme and Splinter Tomcat Adversary scheme, but those were both actually easier than this one. Getting the lines at the correct angle over the fuselage and continuing the shape across complex curves proved to be quite frustrating. I got it mostly right, but there are some definite inconsistencies with the real aircraft as far as line positions.

Looks good enough for me though!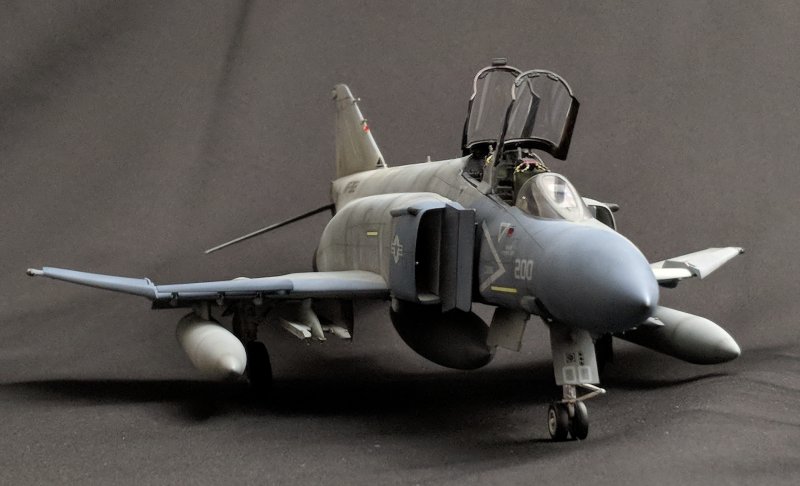 Overall I am very happy with this one. Such a cool scheme! I weathered this moderately heavy, and was a little afraid I took it to far. But as I looked at it more day by day I have decided that I am very happy with it.

Here is what I used for this project:
Kit: 1/48 Zoukei Mura F-4S Phantom II SWS-48-05
Decals: Afterburner Decals Ferris Phantoms 48-051
Aftermarket: None
Paints: Gunze Mr. Surfacer Black 1500 (primer base), Tamiya Liquid White Primer (for marble coat), Gunze Aqueous H316 FS 17875 Insignia White, H308 FS 36375 Light Ghost Gray, H337 FS 35237 Grayish Blue, and H42 FS 35164 Intermediate Blue, Mr Paint MRP-245 FS 36307 Light Sea Gray, ModelMaster FS 35109 Aggressor Blue, Tamiya Rubber Black, Clear Red, Clear Green, and Smoke, and Alclad II Gloss Black Primer, Airframe Aluminum, Pale Burnt Metal, and Burnt Iron. Future Gloss coat for decals and Future+Tamiya XF-21 Flat Base 6:1 ratio for final matte coat. Mig Ammo Deep Gray panel wash.
Michael Phillips
Click on images below to see larger images