This is one of the best of Hobbyboss's Easy Assembly kits.

It has especially nice detail in cockpit, main wheel and airbrake bays. If there is any problem, it's the decals. Usually, these Hobbyboss models have small unremarkable decal sheets, but the F-84 has a huge, strikingly colourful sheet - for just two schemes. First, the simpler scheme is the one on my model and the boxtop. The second has checked markings for all four large fuel tanks and a really spectacular tail.

Why the box makes no reference to this obvious selling point is beyond me unless . . . perhaps those complex markings are less than easy to apply?

Actually, the simpler decals weren't that easy either.

Several of mine split though not so badly that they couldn't be nudged together. For the tail, it's obviously easier to leave the tailplanes off until the fin has its decal in place. Also, these decals seem to have quite thick backing film but it all disappeared nicely under varnish.

Paint was Tamiya Acrylics, washing and drybrushing was by tubed acrylics.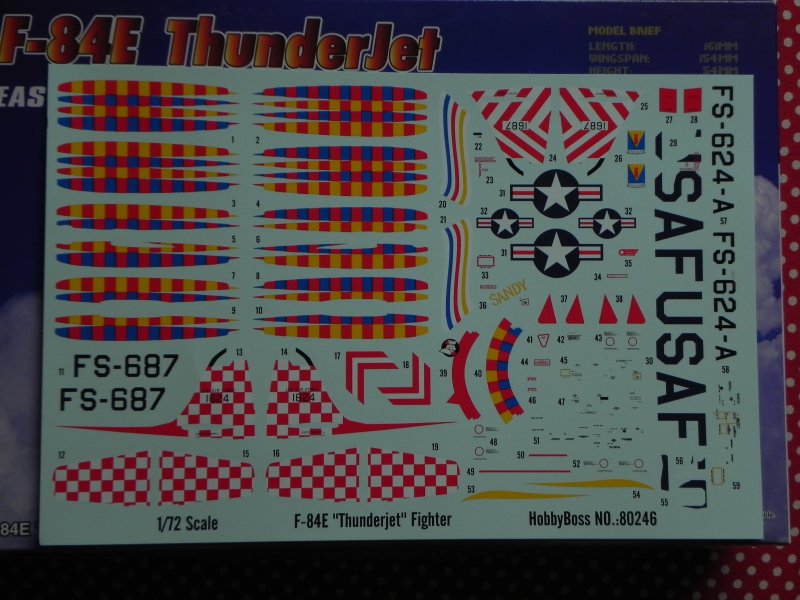 This diorama was an attempt to use up the Hasegawa ground equipment (which I fully realize might be a little out of period with the F-84 but, hey . . . ). These pieces are excellent. The yellow tractor is also Hasegawa coming with the old T34 Mentor kit.

The hard plastic figures are from some old aircraft kit that I no longer remember - I guess either Monogram, Lindberg or Revell. The ladder was apparently scratchbuilt (nerd that I used to be).

Base is scrap insulation board.
Greg Kerry