Hi Friends. This is my first model beginning the year.

Doing a lot of history, the plane represents one of first fighters flown by the famous 201st Mexican squadron, During the WWII, on the Pacific theatre, into the Philippines. Some P-47s were abandoned by the USAAF, considered obsolete.

But were rehabilitated by the Mexican mechanicals. My people are very known around the world, by to use theirs talent. Always making the miracles on machines and improving. So with some waste planes, the 201st squadron began his fight against Japan. This was an anecdote, time after Mexico received your own fighters. El Pecua, it"s nickname in spanish, and is very known with this designation in all Latin America.. The most powerful American fighter, on the Second War. Well, about the kit, I can to said you, that the model is very old and simple. To can customized, I just use four aftermakers. Canopy, photoetched, propeller and decals. All else was pure scratchbuild in it's highest expression. The propeller was taken of other kit, is a Curtiss. The Eduard photoetched was located on cockpit, some parts on undercarriage, wheel bays and exhausts. The rest is scratch. My most big difficulty was to articulate the flaps, but for Me, is the better part of the aircraft.

The next supplies were used on this model:
Eduard: No.48-105

Squadron Canopy: SQ9503

Hypodermic Needles: 18Gx38mm, 20Gx11/4"" for gun barrels

Tamiya Acrylic Paints: X-22, X-1, X-2, X-8, X-24, X-32 and XF-16

Model Master: Sealer Metalizer-1419, Flat Clear-T53261,

Yellow: 33538-1708,

Black: 37038-1749, Yellow Zinc Cr.-4851, Faded Olive Drab-2051,

Green: 34052-2025.

Decal Setting: Solvaset and Mr. Mark Softer

Alclad: Smoke-405

Natural Metal: Mr. Color Super Metallic Chrome Silver.

Humbrol: Metalcote Polish Al.-8187

Decals: Aztec and AeroMaster.

Weathering: Oils Winsor & Newton

Airbrush: Truper Aero-35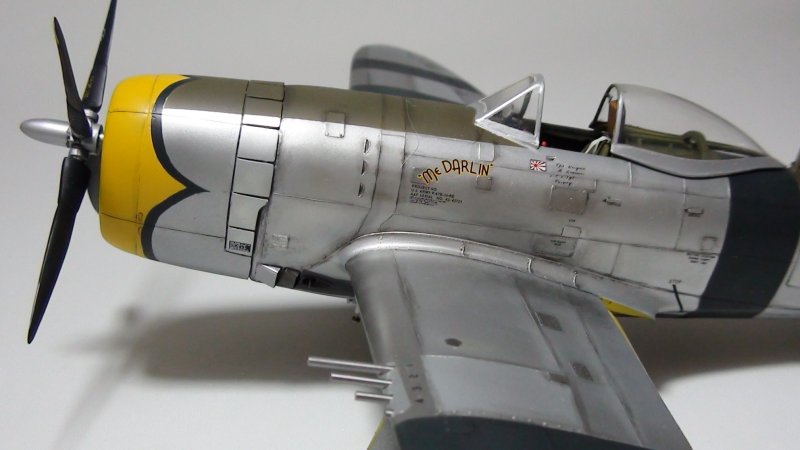 I know, the model had a more beautiful look like with the negative panel lines, but this time, I wanted to give it a different appearance. By that I do not touch those raised lines. However I hope you enjoy this relic.
El Rey