F-84F Thunderstreak Jagdbombergeschwader (JaboG) 33
Besides equipping a number of USAF units stationed around the globe during the Cold War period, the Republic F-84F was purchased by a quite a few foreign governments, among them the West German Air Force (when there were two Germanies, East and West, i.e. from the end of WWII to 1989). Nearly all of the West German F-84Fs wore camouflage paint, rather than a natural bare metal, which was standard fare on USAF Thunderstreaks.

I came across a German after market decal firm, Peddinghaus, that had several F-84F unit markings for the period of the early 1960s. I had then to procure another Kinetic kit and build it so as to use the striking markings of the 33rd JaboG, or fighter bomber group.

I recommend you read my build experiences with a just completed F-84F, in the Gallery of ARC. I followed the same steps with this kit as I did previously, with the exception of using Tamiya's dark brown oil based wash for the recessed lines and panels on the ventral (underside) of the assembled model; I used black wash for the dorsal (topside) lines and panels. I felt the different color shading was closer to the photos of the real aircraft. For reference, I heartily recommend the booklet "Republic F-84F Thunderstreak," by Siegfried Wache, as part of the series of booklets on the "Aircraft of the Modern German Armed Forces," published by AirDOC. If you study a number of F-84F camouflage photos within the booklet, don't be surprised to find edge and area variations, as the painting was done by humans, one at a time; variation exists plane to pane, and over time, as repair and repaint was performed.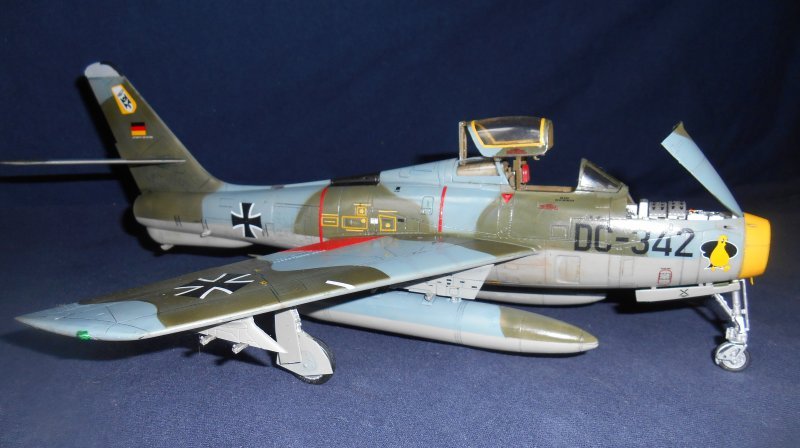 Also regarding painting, I was struck by the fact that the camouflage colors had a "hard" edge, i.e. there was not a gradual, fuzzy end to one color before the start of a different color. I used Tamiya's 2mm wide masking tape for curves for the separation between camouflage colors. This masking tape for curves is a recent modeler's aid that came on the market and there are various widths, but I found the narrower the tape, the more flexibility I had to make sharp curves.
Carl Jarosz