My latest, Tamiya's huge old F-15E. This was a bit of a struggle and I'm not hugely happy with some of the finish, but it's big, grey and impressive, so that'll do me. Also, I think it may be indestructible.

I added Eduard pre-painted PE for the seats, since the kit's had no belts, but all the other detail is from the box. Fit was mostly OK except for the canopy (the skirt was much too narrow for the sills and had to be extended with thin plastic card) and, oh dear, the wing roots. Both met up with the fuselage at front and back, but both had marked dips mid-chord, leaving very pronounced steps.

I'm sure I tightened up all the screws properly so I can't explain it. Packing and filler have disguised the problem but not removed it - in the wrong light a curious crescent is still visible on each side.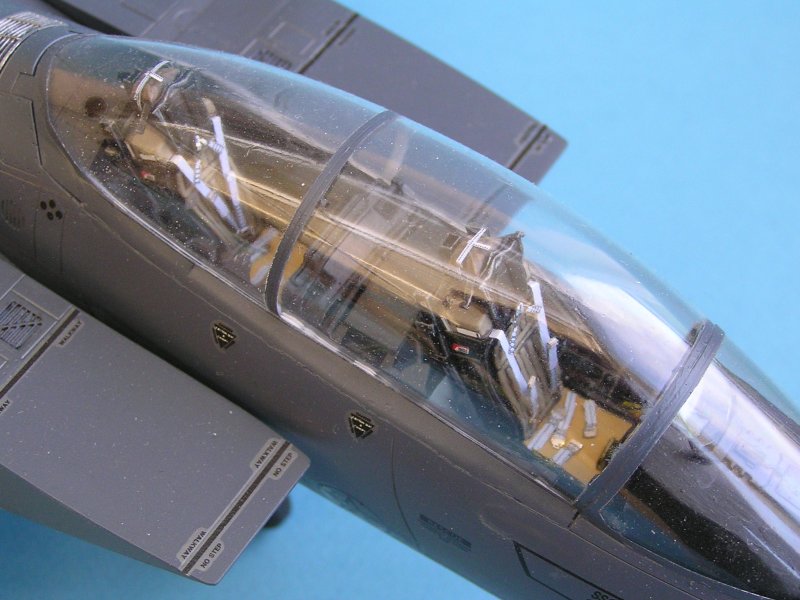 Decals are from the kit, the original box with all the 4th TFW options. The bare metal is Plastikote silver and the gunship gray is Tamiya's own, which it seems matches no other "gunship gray" on Earth.

You'll tell me now that Testors or someone makes a perfect match, but nothing here in the UK seems right. The fuel tanks are robbed from Revell F-4 kits because the single tank that Tamiya supplies is so under-scale that it will fit inside a Revell one.

One more 1/32 kit for me and then that's it. I managed to knock nothing off waving this two-foot monster around between three desk lights and my own nose, but it's nerve-wracking stuff. (What will happen when the 1/48 B-1B comes round .?)
Sean Langley