F-4E Phantom II 181st TFG ("Racers"), Indiana ANG
A dozen years ago, I submitted my very first article and build photos to ARC: it was a 1/72 scale Phantom II . . . of the same Indiana ANG unit out of Terre Haute, Indiana (on the Wabash River, with Illinois across the river). I purchased the larger 1/48 scale Phantom II – with the same markings - from Hasegawa about the same time, so you can tell it took me this long to finish it. Longevity helps.

The kit was built nearly totally out of box, with the exception of True Details resin cockpit seats and Steel Beach FOD covers, with "Remove Before Flight" tags I had to affix with .012 brass wire.

I used my now-standard Ammo/Mig black wash for recessed panel lines, followed by airbrushing Testor Model Master enamel paints. Although I tried to go heavy with the wash, the dark gunship gray color nearly obliterates the effect; the weathering is really only appreciated on the lighter, neutral gray sections. I used a water based Black Detailer in the wheel wells after I spray painted them, then coated them with Future floor wax. A water-dipped Q-tip or small sponge easily wipes off any excess detailer, leaving exactly the look one desires in such deep pockets that continually capture grease, dirt and oil.

I also went heavy with airbrushed black and brown paint on the centerline fuel tank, plus the rear half underside. Both had what I consider excess stains, streaks and smudging from photos examined. I also added a bit more black weathering with pastel chalk on the jet exhaust panel lines, as these, too, often showed carbon build up.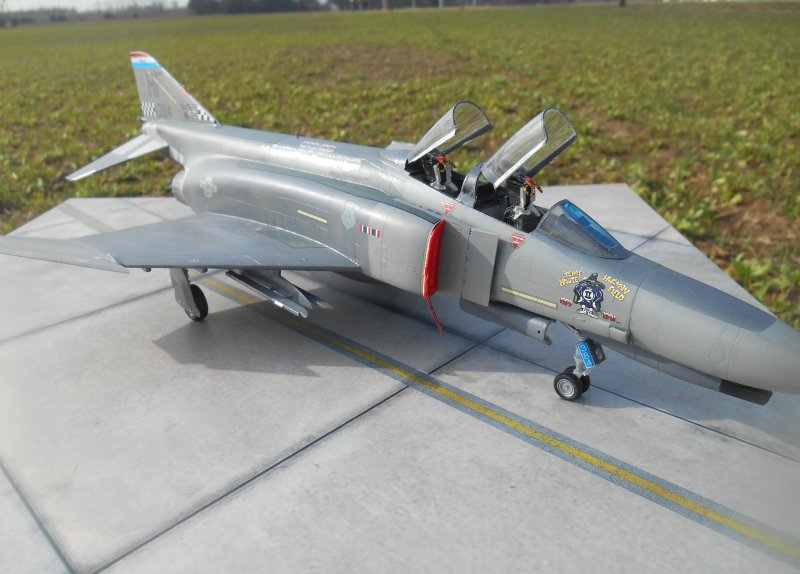 I sealed the finished model with a light spray of dullcoat, making sure I didn't contact the canopy pieces. As said above, I used enamels on the build, but I had to use acrylics for the blue anti-glare front windshield and the red and blue running lights.
Carl Jarosz