My first, entry for 26 Jan 2020 Republic day entry.
I always wanted to build a HAL Chetak or Alouette III, I knew Heller makes a one so got a one however, the kit was crude and basic so I needed PE parts to make it look decent.
But getting the PE was difficult, I searched everywhere for PE parts for few weeks and I found a one on the EvilBay it was there on HLJ but always out of stock, bought the PE but my experience with PE was minimum.

Once, I started the project, one of my friend told me (Ratish) why not build an opened one, since there is no opened Chetak, so I decided to make opened one but then, I have to pause for few weeks since I didn't have fine saw blade and after few weeks got it and start working on it, cutting clear parts was scary it was my first time and I was if I screwed up then am gone. I used thick masking tape on one side and guide and run saw the clear parts and managed to cut a satisfactory. Then I started using the PE almost rebuilt the engine as it was just too basic and clean and we know most aircraft engines are full of pipes and wires, I used masking tape as floor carpet for the cockpit and scratch few other interiors parts which is trivial to mention here.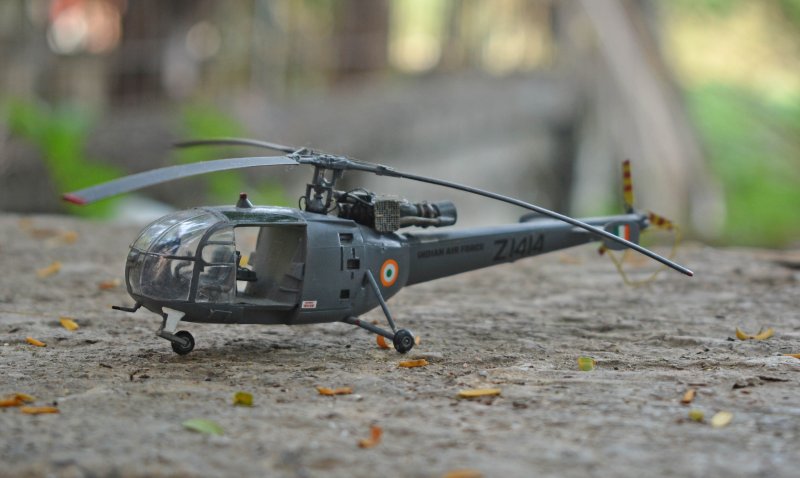 For paint I Tamiya grey and gunze light grey and for metallic part mixed of Mr.color and Tamiya paints, I generally don't use specific paints I mix and eyeballs the colors. Here it is, it is a delicate task for me making in 72 scales, I hope it has turned out ok, thanks for looking, cheers.
Tom Thounaojam