This kit was bought entirely on a nostalgic whim. The moulds must be almost as old as I am (64) as I remember my dad making me one of these in the days before I was allowed to get my hands on the cement tubes.

Predictably, it had a lot of flash. The fuselage joints needed major filling, transparencies were beautifully clear but almost devoid of frame lines and the cockpit canopy needed extensive plastic card shims to fill the gaps. Still . . . I really enjoyed putting it together - somewhat better than my late father did over half a century ago.

Early on I made the decision to keep the rivets - partly as a sort of homage to models of yore, partly out of laziness. This had two effects later.
First, the kit decals (very nice, by the way) would not sit over them convincingly so I was forced to scrape the decals off, rub down the rivets in the decal areas and then use any old replacement decals I could find (thus the odd codes). Later, I used an acrylic wash which had paint deposits in which were not completely diluted. This had the magic effect of actually collecting along the lines of rivets to produce quite a nice appearance I think (lucky or what?).

Everything was brush-painted with Tamiya acrylics.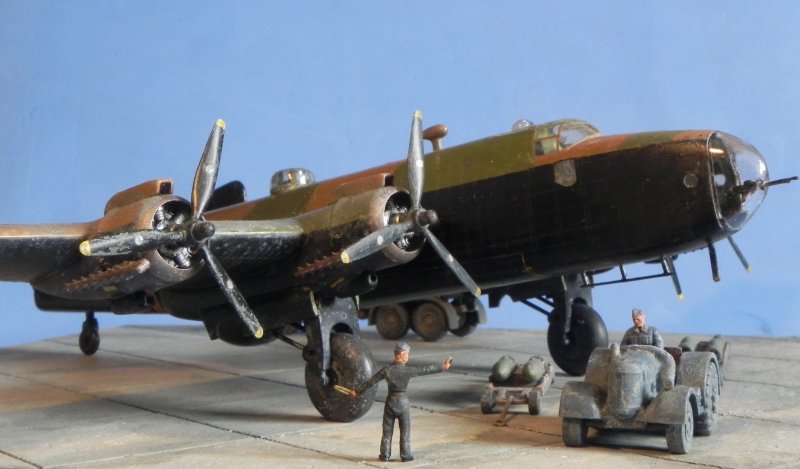 Tractor and bomb trolleys are from the old Airfix Stirling kit - also from about fifty years ago but somehow surviving (the Stirling, alas, did not).

The AEC tanker is from the excellent Re-fuelling set and was picked up at a car boot sale a mere twenty years ago. Vintage modelling. Classic stuff.
Greg Kerry