Back in 2000, I joined the Historic Aircraft Restoration Society (HARS), then based in Bankstown, New South Wales. We had obtained two Bell AH-1P Cobra helicopters, 76-22592 and 76-22598 from AMARC. They had been de-militarised together and neither had the same damage inflicted on the airframes, which would allow us to build one serviceable airframe out of the two. Shortly after I came onto the project, we decided on 76-22592 as the flier and '598 would sacrifice her serviceable parts to become a static only. Unfortunately, despite a test-bed run serviceable engine, overhauled main transmission and all other serviceable rotable items being decided on and ready to fit, the project ran out of money. Bell weren't keen on it flying, either, as it had notionally been 'destroyed'. I've had the Revell-Monogram AH-1S in the stash for many years and pulled it out last year to make this. There were lots of additions and modifications to make this into an AH-1P. The AH-1P was essentially an AH-1F with the AH-1G turret, flat-plate windows, T53-L-703 engine and TOW capability.

The following mods were made:
Modified and fitted the Cobra Company's engine and transmission cowls, chin turret and seats

Fitted Eduard's etched set (door handles, door frames, gunner's mirror, gunsight and tail rotor
pedals). Not really worth the effort, to be honest

Cut the Main Rotor Blades free of the Hub, modified the Hub Grips to look more like they should and twisted the blades to look like they usually do at rest with wire supports

Cut the bulged windows out of the frames and replaced them with scratchbuilt flat window panes

Opened the doors and scratchbuilt gas struts for both

Made the Helmet Sighting System from wire rod, plastic and copper wire strands

Made wander lights and leads from scrap plastic and copper wire strands

Made intercom leads from copper wire strands

Replaced the engine with one from an old UH-1D kit (you can't see it, anyway!)

Added the M134 Minigun (from an old Fujimi OH-58 kit) and M129 40 mm grenade launcher (from brass tube) barrels to the turret

Fitted weapon sway braces from a Tamiya P-51D to the outer wing weapon stations

Fitted spurious brass etch from the Eduard Tornado GR.4 set to the outer weapon stations

Scratchbuilt an exhaust vent and engine exhaust deflector mounts above the Tailboom junction

Modified the Pitch Change Links to fit the deflected Main Rotor Blades

Scratchbuilt anti-collision and navigation lights from stretched clear sprue

Made vent screens for the lower aft Tailboom access panel

Made a Fuel Filler Port and Fuel Cap from old steel etch

Opened up the engine intakes and cowl vents

Opened up the Main Transmission and 42° Gearbox inspection windows and filled the holes with Future
Rescribed the panel lines

Used HGW rivets to replace those removed in sanding (they're done very subtly on this kit, so I retained them)

Lightly weathered the Tail Rotor Drive Shaft access panels under the exhaust where the heat had discoloured the finish a little and added light staining to the lower fuselage

Werner's Wings AH-1F stencil sheet decals used for all markings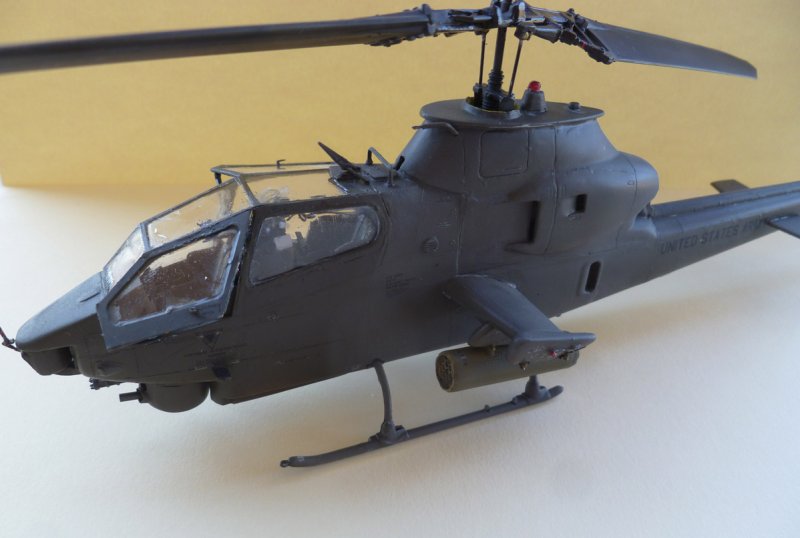 The Cobra Company Engine/Transmission Cowl needed to be heated in hot water and remoulded to fit the fuselage cuts. I shouldn't have cut the windows out as the replacement plastic ended up with too much PVA glue on them and became distorted as a result. Lots of filling with stretched sprue and Mr Surfacer 500 was needed on the joins (primarily where I did the major surgery). The rotors were left off until the model was finished and they're still just placed in position, not glued. Painting was done using photos I took of our aircraft during the restoration, as well as a few from the web and the Squadron AH-1 Cobra Walkaround book. The US Army Maintenance Manual and AVUM with Parts were very useful references (luckily I had them still on USB!). I used Mr Surfacer 1000 as a base and coated that with Testors Model Master US Helo Drab. The same company's Metalizer Brass, Olive Drab and Flat Black also made an appearance, as did Aluminium (or is that Aluminum in US English?). Humbrol's yellow enamel was sprayed on the Tail Rotor Blade tips (the K747 blades are black everywhere). I didn't flatten the black as much on the Main Rotor Grips, Hub and Mast as they're really flat, rather than matt (as are the Tail Rotor Blades). Tamiya's clear green and red enamels were used on the navigation and anti-collision lights. Future gloss coat went on before decals and Future with Tamiya's X-21 flattened it all afterward. Only the rocket pods were fitted as we never got any of the TOW gear with the aircraft.

While not perfect, it'll look good in my cabinet as a reminder of what could have been.

The real aircraft? '592 is on static display at the HARS annexe in Parkes, New South Wales and '598 is also displayed in static condition at HARS' new home base in Albion Park Rail (near Wollongong), New South Wales. Neither will fly again but both museums are definitely worth a visit!
Rob Nieuwenhoven
Click on images below to see larger images