This photo etch detail set from Eduard is part of the Zoom series of photo etch sets and is available directly from Eduard Model Accessories. This is mostly a cockpit detail set designed for the 1/48 Eduard Bf 109G-10 Erla. The parts include the radio compartment door, main land gear door and hydraulic lines and other parts for the main landing gear, wing radiator and cowl oil cooler flaps, strap for drop tank, details for main landing gear bays and a few other smaller details.
There are 2 pages of instruction in the usual line drawing format that Eduard is famous for and which are so easy to follow. You will be required to cut away detail on the kit parts to fit these photo etched parts, but this is indicated on the instruction sheets.
You will be required to fold the photoetch in this set, but if you have one of the Hold & Fold photo etch benders from The Small Shop, then this will be an easy process. They have a variety of benders for sharp corners as well as rounded corners and in many different sizes.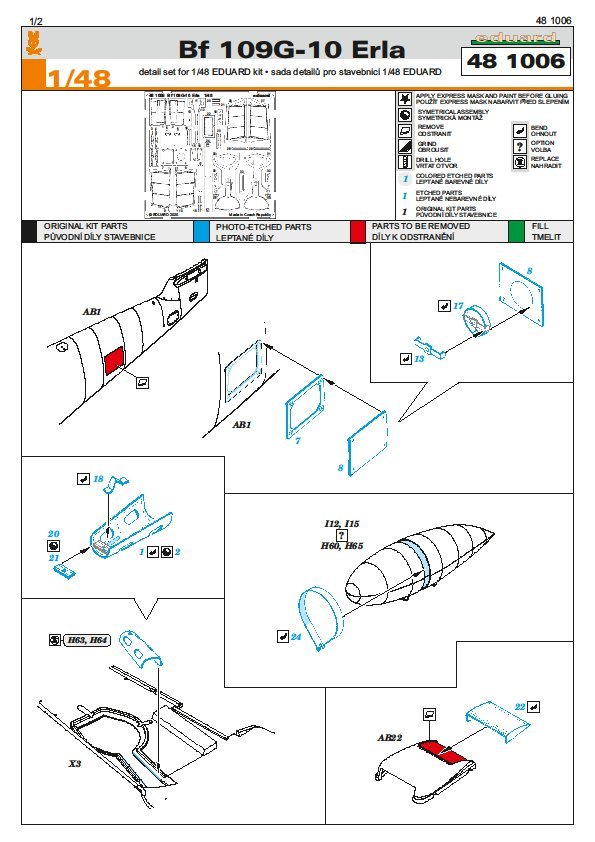 The 109G is a fascinating machine with it's inverted fuel injected V-12. This set helps you give the proper level of detail to all the areas of the Bf-109G-10 to help show off all that wonderful mechanical detail.
You can buy this pre-painted photo etch detail set and thousands of other items directly from Eduard Model Accessories.
Steve Bamford